Meet Our Group
Connie Parrett | Billy Wemlinger | Roger Dearwester | Kim Wemlinger | Megan Chambers | Angie Parrett Wemlinger
Connie Parrett
Agent | Founding Partner of HER Realtors
(614) 273-7923
Connie@TheParrettGroup.com
Connie Parrett is a 2nd generation Grove City Realtor.  Licensed since 1978, she followed in her father's footsteps (Ben Dodge).  She is the lead agent of the group and oversees every phase of the process to ensure that her experience and training is protecting each and every one of The Parrett Group's valued clients. She has completed extensive training over the years and has earned designations such as GRI (Graduate Real Estate Institute) and ABR (Accredited Buyer's Representative). Connie is a multi-million dollar producer, inducted into the Columbus Board of Realtors $25 million dollar club of verified sales back in 2003.
Connie and her husband, Mike Parrett, have lived in Grove City their entire lives. Residents of Indian Trails, their oldest son Chris lives in Germany with his wife Christina and their two sons Branden and Blake. Their daughter Angie lives in Grove City with her husband Billy and their two daughters Ella and Alexandra.  In her spare time, Connie enjoys spending time with her friends and family and traveling to Ft. Myers Florida for her much deserved vacations. She is an active member of Rotary, The Grove City Chamber of Commerce, and facilitated in the formation of The Grove City Town Center. She loves her Grove City community.
Billy Wemlinger
Agent | Partner
(614) 273-7935
Billy@TheParrettGroup.com
Billy Wemlinger has been licensed since 2004 and came to real estate from the building industry. He enjoys working with both Buyers and Sellers and thrives when it comes to the tech-side of this business. He oversees the marketing of all Parrett Group listings as well as their online presence. If you've noticed that the photography, videos, and descriptions of Parrett Group listings tend to stand out among the competition, it's because Billy has spent years researching the subject and searching for the right professionals to deliver their product. He believes that no detail is too small. Billy's constant desire to be ahead of the curve keeps The Parrett Group ahead of the competition and gets your home sold!
Billy has a well rounded knowledge of all of Columbus but is happy to call Grove City home. He lives in Hoover Crossing with his wife, Angie Parrett Wemlinger, and their two girls Ella and Alexandra. When he's not playing Barbies or trying to talk his daughters into taking up golf; Billy enjoys projects around the house, all things sports, movie nights with his wife, and just hanging out with friends and extended family. While he didn't grow up in Grove City, it didn't take more than a couple of walks down to the town center for him to realize that he fit right in.
Roger Dearwester
Agent
(614) 273-7904
Roger@TheParrettGroup.com
Originally from Bellefontaine, Roger earned his BS from California State College and while playing on a basketball scholarship. In the sales industry for over 40 years, Roger was originally licensed in 1978 and rejoined the field in 2011.  Previously in the insurance business for 21 years, he sold his business to become a full time real estate agent with The Parrett Group. One meeting with him and you understand why he's been so successful working with people. Roger enjoys working with Buyers and Sellers of all stages in life but seems to have a wonderful knack for helping seniors transition from their larger home to something that better fits their current needs.
Roger and his wife, Marilyn Dearwester, have a combined 6 children and enjoy being grandparents to their 14 grandchildren and 7 great-grandchildren. Roger enjoys entertaining and putting smiles on faces. For the past 19 years he has hosted venues as a singer, DJ, karaoke jockey, wedding entertainer and singing for the elderly at assisted living facilities. He is an active member of the Pinnacle Golf Club, American Legion, and VFW.
Kim Wemlinger
Agent
(614) 273-7924
Kim@TheParrettGroup.com
Born and raised in Grove City, Kim Wemlinger has lived in central Ohio her entire life. With over 15 years of sales experience, she realized it was time to help others with the largest transactions of their lives. More than just a career, Kim views her role in helping Buyers and Sellers as a personal responsibility and an opportunity to make a positive impact on her client's life. She believes the cornerstone of her success is the personal contact and open line of communication she keeps with her clients. This personal touch coupled with her acute knowledge of the local market is what sets her apart from many in the industry.
Kim lives in Hoover Park with her children, Ava and Vande, and loves the fact that they're within a short walk or bike ride to most of their family. Away from the office, she can usually be found helping out in her kids' classrooms, attending their baseball games at Windsor Park and art classes at CCAD, or volunteering at her church. A favorite spot for many of her activities is the Grove City Town Center. Whether she's grabbing a coffee, bite to eat, or some ice cream for desert, you can probably find her doing it in the heart of her hometown.
Megan Chambers
Agent
(614) 313-0844
Megan@TheParrettGroup.com
Megan Chambers has lived in Grove City her whole life. A graduate of Grove City High School in 1990 , she started her career in real estate and was licensed in 2004. Megan believes that communication and honesty are always the best policies when working with her clients. She's had the experience of working for multiple brokers and has picked up a little something from each stop on her journey.
Megan has a son, Ryan, and extended family that all reside in Grove City. She lives in Claybrooke Crossing and enjoys bike riding, dining, movies, participating in Ryan's sports activities and volunteering at his school.  She also attends Grove City United Methodist Church. Her favorite hangout is Plank's on Broadway, where she used to work.
Angie Parrett Wemlinger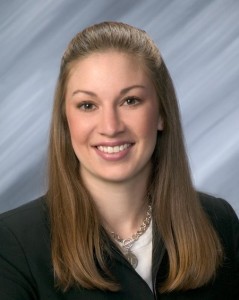 Marketing | Administrative
Marketing@TheParrettGroup.com
Angie Parrett Wemlinger has roots that run deep as a Grove City native.  After graduating from Grove City High School in 1997, she attended The Ohio State University and earned a degree in Retail Merchandising. Becoming a 3rd generation Realtor, Angie obtained her real estate license in 2004 and joined her mother, Connie, and husband, Billy, in developing The Parrett Group. She found her niche helping 1st time home buyers find their dream homes. Her vast knowledge of Grove City, Ohio really comes in handy with her marketing duties.
Angie has a love for the small town feel of Grove City and enjoys living in town with her husband, Billy Wemlinger, and their two daughters, Ella and Alexandra.  During her spare time, she obsesses over Pinterest, works on DIY projects, enjoys spending time with family and friends, and has just discovered a love for Bikram Yoga. As a family they love to attend the many community events in The Grove City Town Center and frequent the restaurants and shops in the area.
*license currently in escrow